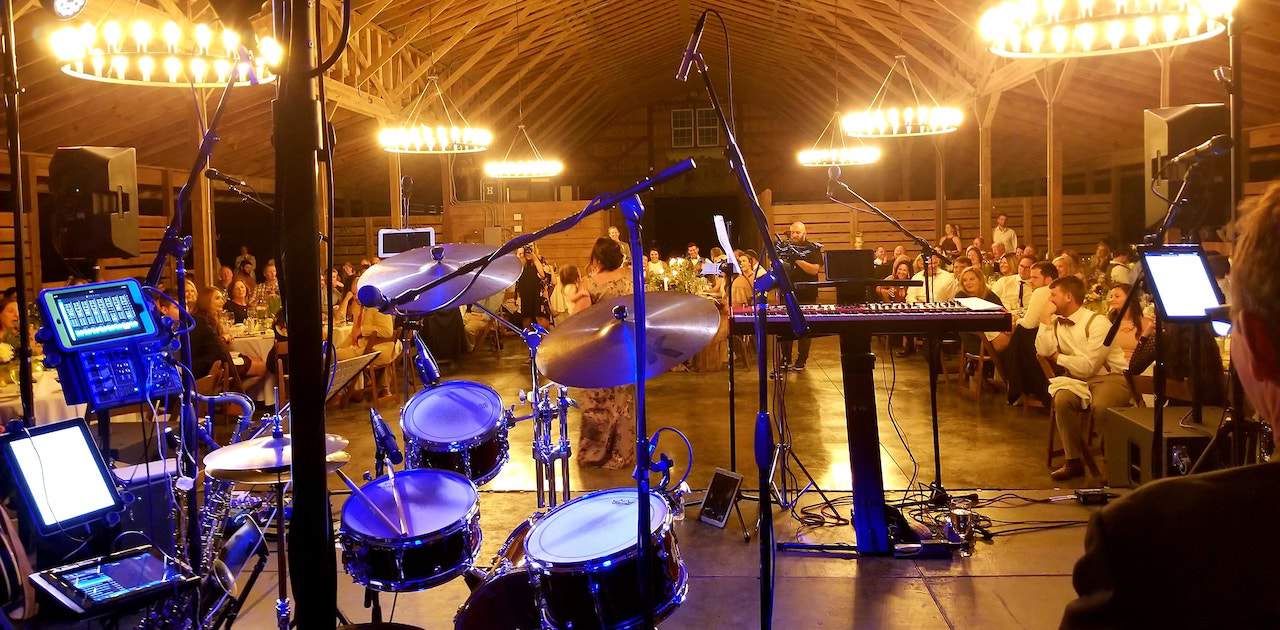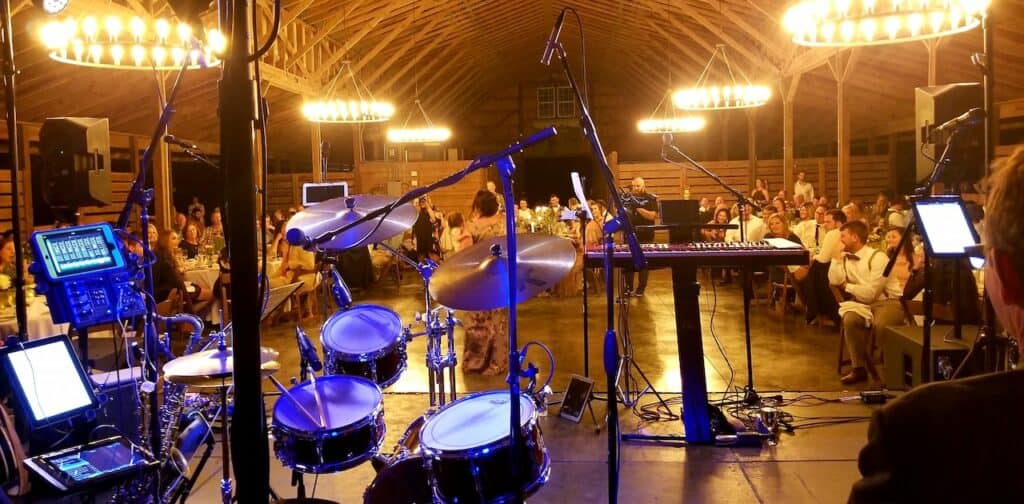 Live music is always unique and makes every wedding day memorable and fun
There are big benefits to live music at your wedding. That might sound self-fulfilling coming from us, though. Encore Entertainment has live bands, like the band etc… you can hire. But we also have a huge roster of DJs (and options for classical music, jazz, and more).
We also readily believe live music isn't necessarily for every wedding ceremony. Sometimes a phone plugged into a speaker in the back of the room is all you want or need. But you'll know when live music is the right decision for your wedding. Here's how.
Choosing music can be daunting; live music makes it easier
Your wedding ceremony can be stressful enough. There's both the ceremony and then the cocktail hour, plus the reception and guests may want or expect a different style throughout the wedding day.
You can make your wedding ceremony easier to handle with a live band. For one, you don't have to ask a family member or friend to sit in the back of the room fumbling through a playlist. Live music puts real, talented, professional musicians in control with fewer points of failure. We've also seen people try to fill a room with small Bluetooth speakers or play from Spotify only to discover their reception venue has, ironically, no reception or WiFi!
Live music electrifies a room
Maybe you're worried about no one dancing at your wedding, or people not liking some of the songs. First: so what? Second, live music isn't just "wedding music", it's wedding entertainment. Live bands have personality and musical talent that lend a vibe and energy to a room that a playlist alone can't.
Live music is a uniting factor that offers a unique experience, one that can shift the room's mood, bring people out to the dance floor, thump along with big, fun dance songs, and keep a party going all night long.
If you envision many people at your wedding reception where a full band helps create the perfect atmosphere and moves people based on the mood, not an algorithm, you'll know live music is right for you.
Live bands are flexible and can adjust their volume and performance within seconds. Bands can appeal to all live age groups without resorting to filtering music playlists for explicit lyrics. With live music, you'll also never have to worry about guests getting bored since, unlike pre-recorded music, they'll have someone to look at in addition to listening to.
Live Band vs. DJ cost differences
There are obvious differences between live musicians and a DJ. We've covered some of these differences between bands and DJs before, but cost is a large factor, perhaps the largest.
For obvious reasons, a band has more people, gear, equipment, and just more of everything compared to a DJ. Your wedding budget matters a lot here, but you don't need to think of a band as a sprawling five-piece crew with an orchestra.
Many brides and couples opt to create background music out of string quartets, string trios, or two musicians like a bassist and a guitarist/vocalist. Live music can be one or more musicians, not always a big band.
DJs are still great options, too, and they are a more affordable option when you want several different styles of music.
Think about the way your wedding ceremony sounds
A memorable experience for most couples is about what they see. The table settings, arches, staging area, ceremony area, seating, food service area, and twinkling lights tastefully placed around the room add elegance and a lot of atmosphere.
But you have six other senses! How the room smells, how the temperature feels, and how the food and drinks taste matter, too. Perhaps no sense is ignored the most than how a room sounds.
Many couples think of their music selections for the first dance, a few "don't play" songs, and the rest is left up to the reception venue and chance. Does the air conditioner rattle? Is there traffic noise from outside? Does the kitchen make a lot of noise as they clang plates?
Worse still, does the venue's speaker system sound like the PA system at a drive-thru? Does the recorded music crackle and pop as the speakers strain to deliver music in the back of the room?
Live musicians are also experienced sound engineers. They can offer helpful hints for how to stage your ceremony, music sets, reception and venue area, and more.
Consider the amount of space your venue has and the kinds of musicians you'd trust
Your wedding venue needs enough space for the band, its equipment, and a power supply. Generally, this is rarely a problem, except for occasional outdoor spaces or rustic locations that lack utilities.
Live music is your private concert, so the right musicians aren't just the ones who sound good when they perform live. A great band is composed of people you trust to match your personality and style, emcee the event, understand your vision, and play some serious tunes.
Lots of professional musicians can play well. Not all of them can perform well live. And more still struggle with the "business of music", such as the logistics of setting up, tearing down, navigating contracts, and billing. You'll know your chosen musicians are right for you when you speak to them and understand how they operate.
Understanding how each type of musician will sound and what they can play
Not all bands can go from Stevie Wonder to Bruno Mars and then Elton John to Elvis Presley, with Danny Boy in between. Live musicians and bands are humans with taste profiles and personalities that often reflect in the genres they play. We're the first to tell people the band etc… isn't ideal for country music fans.
Here a DJ is a good choice — it's easier to transition between John Legend and John Rich on a turntable.
As you listen to music samples, talk with your band's contacts, and get a feel for their personality, you'll develop a strong sense of which band is right for your wedding day. When you're ready to talk about options around Central Indiana, send us a message or give us a call.