Featuring soloists, duets, string trios, string quartets, and chamber ensembles, Candlewood Strings brings the elegance, taste, and class you expect with the fun and mood matched for any event.
The perfect classical music performance for your wedding, mitzvah, or private event
Candlewood Strings can introduce your cocktail reception, wedding ceremony, or other private party guests to the best, most practiced, well-trained, and professional musicians around central Indiana. You'll hear beautiful melodies and sweetness of tone from the first note to the last.
Founded in 1989 by Candlewood Strings has become renowned in the Indianapolis area for its elegant ceremony musicians.
Candlewood Strings has helped provide over 2,000 events with an unforgettable environment of class and taste.
Featuring expert Indianapolis musicians in:
Harp
Violin
Guitar
Piano
Cello
String Soloist
Violin Duet
String Trio
Violin Quartet
String Ensembles
Chamber Strings
Small Orchestra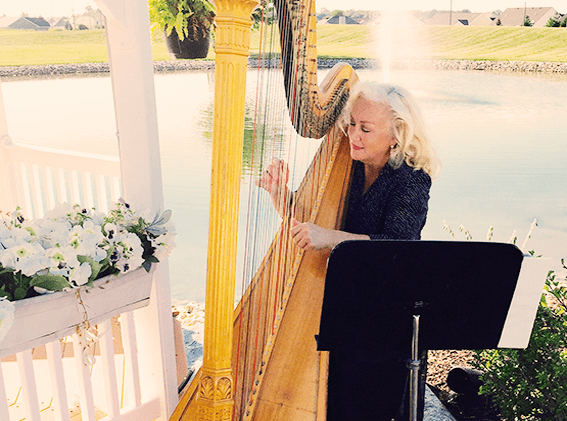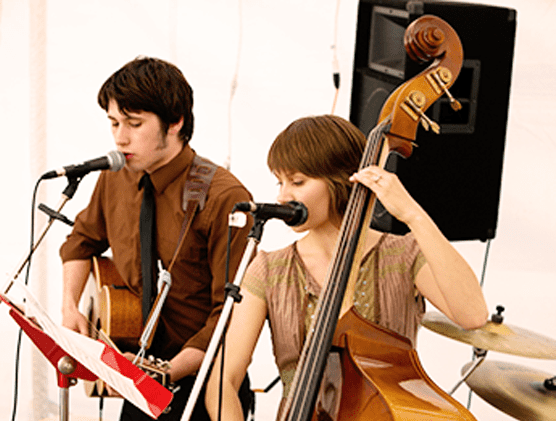 Corporate music that livens the mood
Companies have long sought to improve the mood and lighten up annual events and meetings. People will always need a way to celebrate life's achievements or life itself. While these events, celebrations, and memorials will always be a part of American life, the music that brings things events and people together can be classical, timeless, contemporary, and new.
Candlewood Strings provides customers planning events like yours with the help to make these events comes together and the class and taste needed.
Listen to these favorite samples from Candlewood Strings
FAQs about and popular collections from Candlewood Strings
What are some of your popular requests in your repertoire?
Also Available: Jewish Celebration Music, Popular and Lighter Fare, Tango, Holiday Music Instrumentation: Violin I, Violin II, Viola, and Cello
Arlin—Over the Rainbow
Barry—Somewhere in Time
Beatles (McCartney/Lennon)—When I'm 64
Carmichael—Stardust
Chapman—I Will Be Here
Denver—Perhaps Love
Danny Boy
Ellington—Mood Indigo
Enya—Only Time
Graham and Lovlan—You Raise Me Up
Hanley—Back Home Again in Indiana
Horner/Jennings—Love Theme from Titanic
Joplin—Country Club Rag
Joplin—The Entertainer
Joplin—Paragon Rag
Kern—The Way You Look Tonight
Love/Meklcher/Phillips/McKenzie—Kokomo
Lara's Theme from Dr. Zhivago
Satori—Time to Say Goodbye
Lloyd Webber—All I ask of You
Lloyd Webber—Memory
Lloyd Webber—Music of the Night
Black Eyes
Heissa Troika
Mazel Tov
Sager and Foster—The Prayer
Strauss—Blue Danube
Strauss—Wine, Women, and Song
Excerpts from Strauss Waltzes
Rumanian Serba
Sunrise, Sunset
Weiss/Peretti/Creaotre—Can't Help Falling In Love With You
Weiss/Theile—What a Wonderful World
The Cole Porter collection
Night and Day
You'd Be So Nice to Come Home To
I Concentrate On You
Begin the Beguine
I Get A Kick Out of You
Ah! Marie (Capua)
Come Back to Sorrento (Curtis)
Funiculi Funicula (Denza)
Io Te Yurria Vasa (Capua)
Mattinata (Leoncavallo)
Tarantella (Traditional)
Italian Love Song (Zinn)
Santa Lucia (Neopolitan Song)
O Sole Mio (Capua)
Vieni Sul Mar (Folk Song)
Tango and Latin collections
La vi Llegar (Francini)
Cafetin de Buenos Aires (Mores)
Cristal (Mores), Paloma (Yradier)
La Comparsita (Rodriguez)
Tango 32 and Tango del Angel (Piazzolla)
Bachianas Brazileiras No. 5 (Villa-Lobos)
Blue Tango (Anderson)
Habanera from Carmen (Bizet)
Jalousie (Gade)
La Bamba (Traditional)
Manha de Carnaval from Black Orpheus (Bonfa)
Noites Cariocas (Bandolim)
Por Una Cabeza (Gardel)
Tango in D (Albeniz)
Tico-Tico Samba (Abreu)
El Choclo (Villoldo)
Lamento Quichua (Gianneo)
La Casita de mis Vievos (Cobian)
Candlewood Strings quartet repertoire list
Bach—Air on the G String
Bach/Gounod—Ave Maria
Bach—Arioso–Sheep May Safely Graze
Bach—Jesu, Joy of Man's Desiring—Sleepers Awake
Bach—Badinerie
Bach—Brandenburg Concerto #3
Beethoven—Ode to Joy—Minuet in G— String Quartets from Opus 18
Boccherini—Minuet
Borodin—Nocturne
Clarke (Purcell)—Trumpet Voluntary
Corelli—Menuetto—Corrente—Concerto Grosso Op.6, No.2—Christmas Concerto Debussy—Reverie
Dvorak— American String Quartet
Elgar—Salut D'Amour
Franck—Panis Angelicus
Glazounow—Interludium in Mod Antico
Gluck—Dance of the Happy Spirits from Orpheus
Handel—Air, Bouree, Hornpipe, and Finale from Water Music
Handel—La Rejouissance—Hallelujah Chorus—Largo
Handel—Passacaile, Air, and Gigue
Handel—Entrance of the Queen of Sheba Handel—Processional from Judas Maccabeaus
Haydn—Variety of String Quartets
Massenet—Meditation from Thais
Malotte—The Lord's Prayer
Mouret—Rondeau (Theme from Masterpiece Theater)
Mozart—Divertimenti (K136, 137, & 138) and variety of String Quartets
Mozart—Alleluja from "Exultate Jubilate"—Andante from Piano Concerto #21
Mozart—Wedding March from The Marriage of Figaro
Mendelssohn—Wedding March
Pachelbel—Canon in D
Puccini—Arias from "Gianni Schicchi" and "Turandot"
Purcell—Trumpet Tune—-Hornpipe and Air
Rachmaninoff—V ocalise
Raff—Cavatina
Rameau—Gavotte
Sager and Foster—-The Prayer
Schubert—Ave Maria—Moment Musical
Telemann—Gigue/String Quartet
Tschaikowsky—Andante Cantabile—Morning Prayer
Vivaldi—The Four Seasons (Winter, Spring and Autumn) Concerto Grosso in D minor Wagner—Bridal Chorus
Join the hundreds of other satisfied listeners around Indiana