No matter the service, ceremony, or performance, Encore Entertainment is the only Indianapolis stage rental company that not only brings the band but the stage, lighting, experience, and great event production equipment you need.
Safe, adaptable stages and risers for rent and setup
Ready-made and mobile, these "pull-behind" stages are attached to trucks are available and can slip in and out of street festivals, fairs, theaters, or conferences. These unique stage setups are great for concerts and special events that need quick and easy setup and tear down at an affordable price.
Depending on venues, smaller risers can be configured 1-3 feet high and come in 4-6 foot sections that hook together, allowing a flexible stage space up to 32×16 feet.
These are great for weddings and corporate conferences where smaller equipment is needed to create a substantial but more intimate room.
Bring it all together with pipe and drape, cables, and skirts, all available upon request.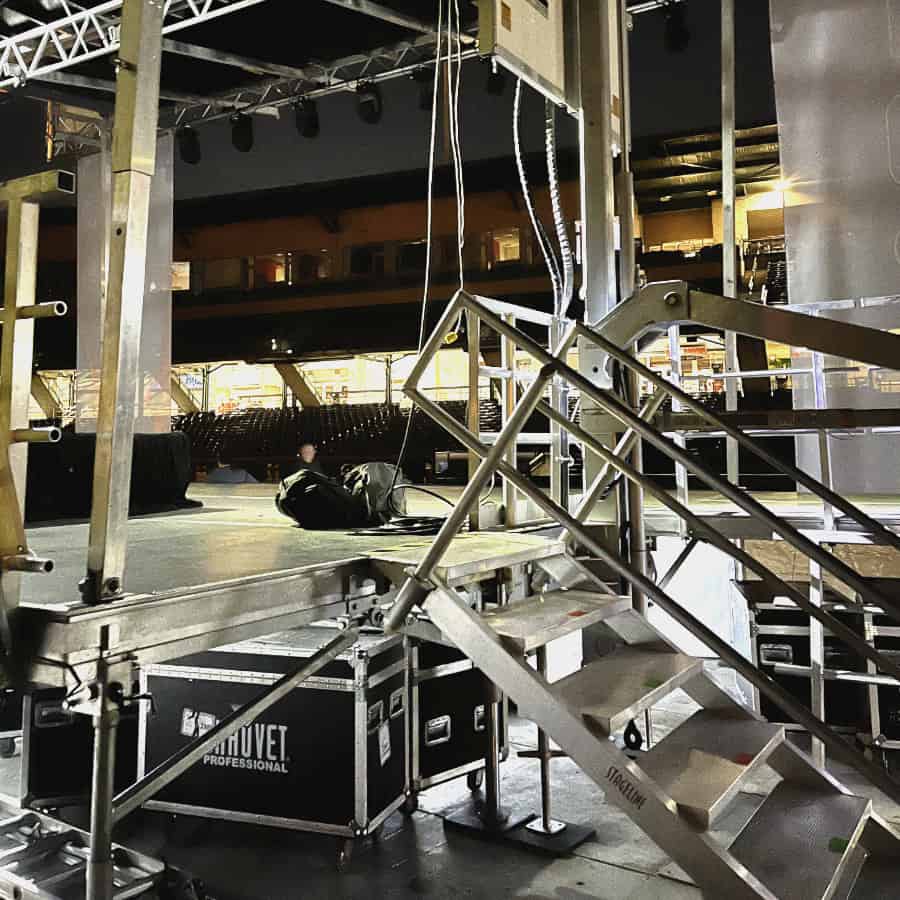 Light it up bright with stage lighting and effects
Movers, uplighting, stage lighting, and production lights can give you that rock concert feeling or a more relaxed environment for your special event.
Centralized control units can supply dimming and sync to audio, so all the high notes come with a flash of sound that keeps your party going.
Lighting kits aren't the hot, room-sweltering bulbs you're used to. These lighting fixtures use bright LEDs that take a fraction of the power and generate even less heat. This means even venues with old or low-wattage connections have safe options for lighting they've never had before.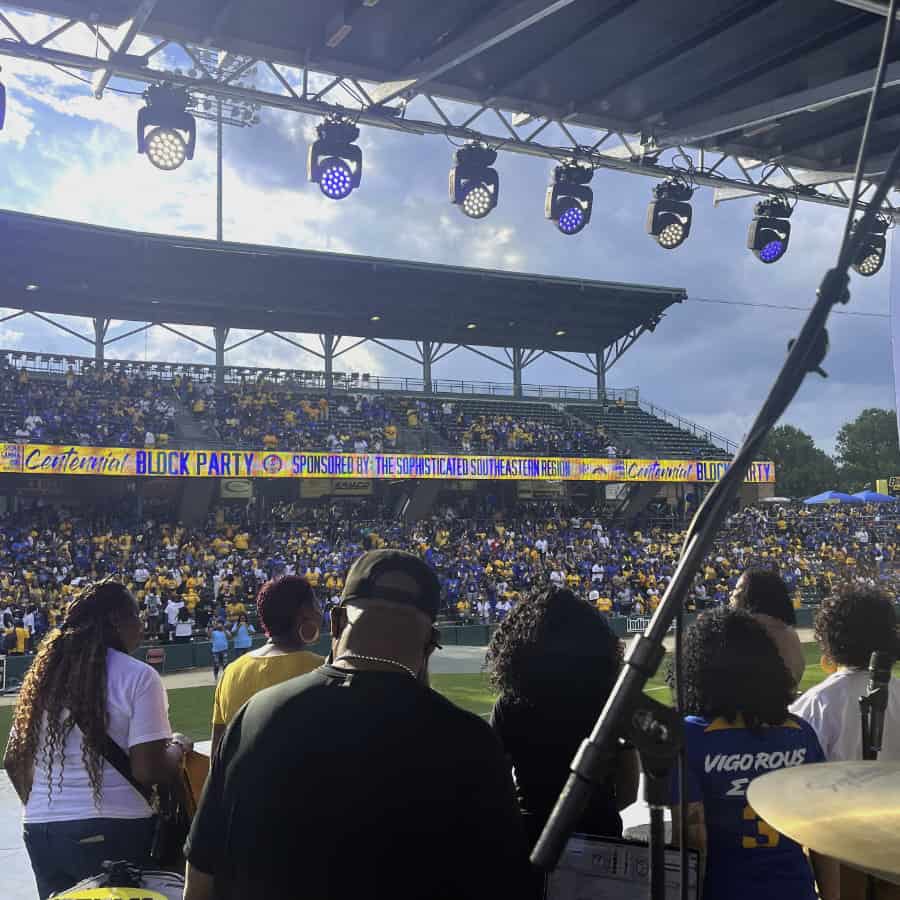 Sound and audio that's bright, loud, and clear
PAs, speakers, lav microphones, line array speakers, tripod speakers, and centralized consoles come together for a sweet audio-visual experience your clients or guests will love.
Sound is sharp, bright, crisp, and designed for your venue's or space's acoustics. As part of our planning process, we can help you customize the stage and sound equipment to fit into your space and run it all with a show manager on-site during your event.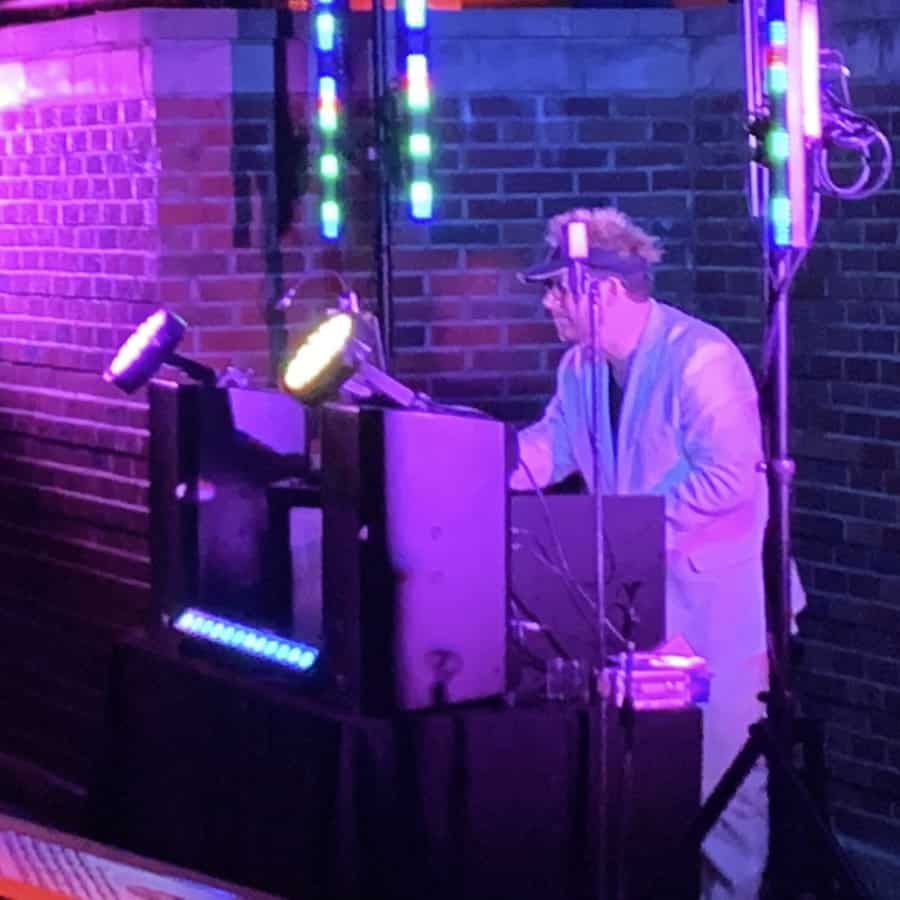 Book the band, the stage, the lights, the audio, or all of the above
Ready to transform your live events into memorable events that keep people talking? Contact Encore Entertainment, and our production and rental team can help plan your event.
We're fully insured and can help check your venue or space for safety concerns, wattage requirements, and more.
Encore Entertainment is the only operation in Indianapolis that combines access to bands, DJs, and other entertainers with a complete selection of audio-visual equipment, staging, and lighting.
Our crews can help deliver and assemble sound and stage equipment throughout the Indianapolis metro area. Service is available outside Indianapolis based on mileage across Indiana and the Midwest.
Tear down is also included, and skirts, tents, and more are available.
Request A Quote
"*" indicates required fields