Ask the wedding band whether you should hire a band and they'll say, "Of course!" Ask the DJ if you should hire a DJ for your wedding and they'll say, "Absolutely!" Bands and DJs bring a lot to your wedding experience and getting the truth from either party is a challenge.
Encore Entertainment can help you arrange a live wedding band, a wedding DJ, or both—not just one or the other.
Benefits of hiring a live wedding band vs. a DJ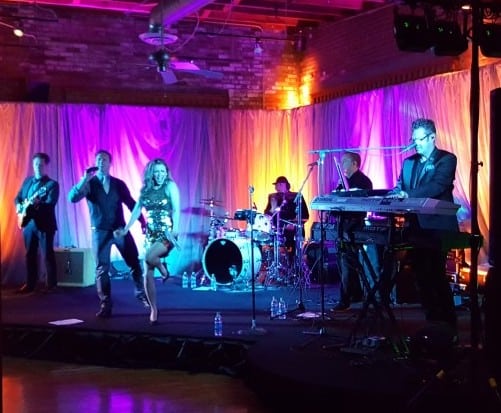 You get more of a show with a band. Performers will be able to interact with each other and your wedding guests and step out on the dance floor.
The band is live. Of course, the DJ is alive, too, but the band is performing live music and not just recordings. These special touches add to the live music experience people love.
A band can adapt to certain events faster than a DJ. A DJ may be stuck mid-song when someone drops a glass or a dance breaks out. A band can adapt by shifting the tempo, beat, and mood of the song they're playing.
Both a wedding band and a DJ bring energy to your wedding venue. But a band is just bigger, and while it's a personal preference, most people agree a band brings the sort of big fun energy that is precisely what any bride, groom, or couple imagines for their reception.
Some of these benefits to hiring a wedding band are also the downfall: because they're a live band, they're human and can crack a note or two and might be unable to accommodate all song requests. And wedding bands cost more than a wedding DJ because they have more people to pay.
Live wedding bands are still a lot of fun and create a unique experience with human touches that make events so special.
Benefits of hiring a wedding DJ vs. wedding bands
You get a bottomless selection of music and requests. A band or DJ usually has a wide repertoire of wedding music, but a DJ can pull millions of songs and has a setlist for various styles, moods, and tastes.
Your guests can make more requests, too. As the night rolls on, a DJ can take more song requests than a band can play. However, most bands will take requests among their known song list.
DJs can work longer. While not impossible, most bands are going to need a break after a couple of hours. DJs have fewer physical demands and can work longer on your wedding day.
DJs can double for the wedding reception. Since a good cover band usually has a style that might be markedly different from what you want in a cocktail hour vs. a reception, a DJ can handle both reception music and the cocktail hour.
Faster setup and teardown. If you're keen to get in and out of your wedding venue, a DJ can set up and tear down significantly faster than a live music setup.
The average cost of a wedding DJ is more affordable than a live wedding band, too, because the setup is usually just one person.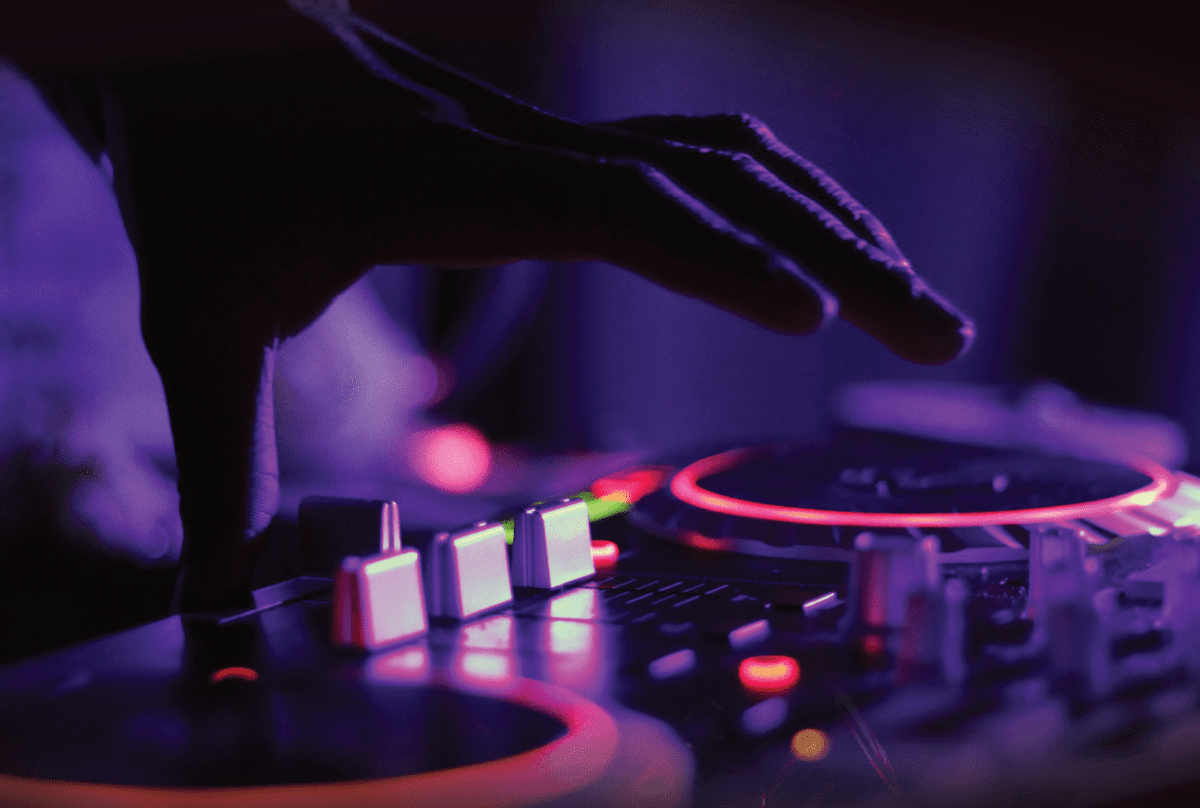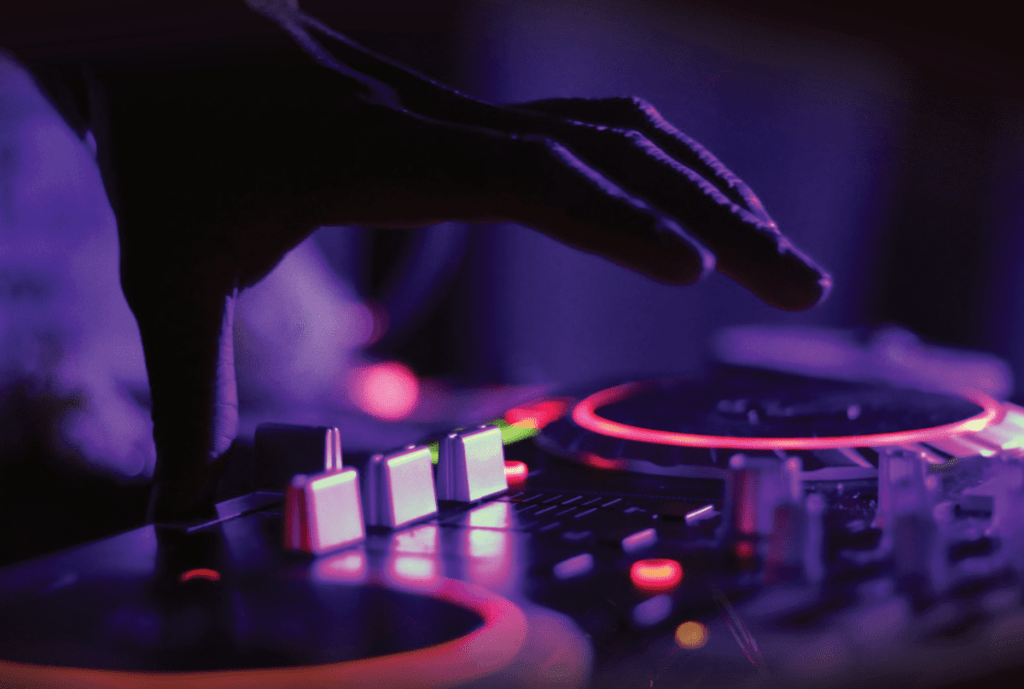 Is a band better than a DJ at a wedding? It depends on your taste
There's no one true answer here. It all depends on the vibe you want to create. A DJ specializing in the type of music you want can create a great atmosphere, and band members can make everyone feel like a rock star by getting up close with guests and encouraging everyone to sing along.
Either one can bring a big party out to the dance floor and emcee the event. And both a DJ and a wedding band can help you establish "Do Not Play" lists for the songs you don't want to hear.
What about emceeing an event and the dance floor?
Some live bands do not emcee events, but our bands—including a string quartet and the Cocktail Sax jazz band—will. The band etc… is our most popular act for weddings and they, like our Circle City DJ and DJ Gallant, can read the room and help you introduce the bridal party, pump up a good dance song, announce who left their lights on, and prepare everyone for the first dance song.
What's the average wedding DJ cost vs. a live band?
A band is likely going to start around $3,500 and a DJ starts around $750. Many factors can impact your costs. Get a quote from us so we can talk through your options.
Can weddings have a band and a DJ?
They can! Sometimes people like a DJ for a dress rehearsal or cocktail hour, then a big band to bring big fun at the reception. Encore Entertainment is the only source of professional DJs, wedding bands, cocktail reception quartets, and jazz performers in Indianapolis. We can mix and match depending on your budget and taste. This is a helpful option if you want to create a romantic atmosphere before or during the ceremony and let loose afterward.
Any other considerations we should know about?
How much space you have is a significant factor between a wedding band or DJ. A band or DJ needs speakers and ideally a stage or lights, but live musicians require more space to move around, electrical outlets, and room for equipment. Most venue space in Indianapolis we perform at has plenty of room, but if you're in an unusual location, get in touch with us to help us understand the limits.
We still need help and can't decide!
Try and watch your wedding DJ or your finalist wedding bands before you book them. It'll give you a solid idea about things you want for your wedding.
Encore Entertainment can help you identify several options and play music to make your wedding day special. Get a quote here.