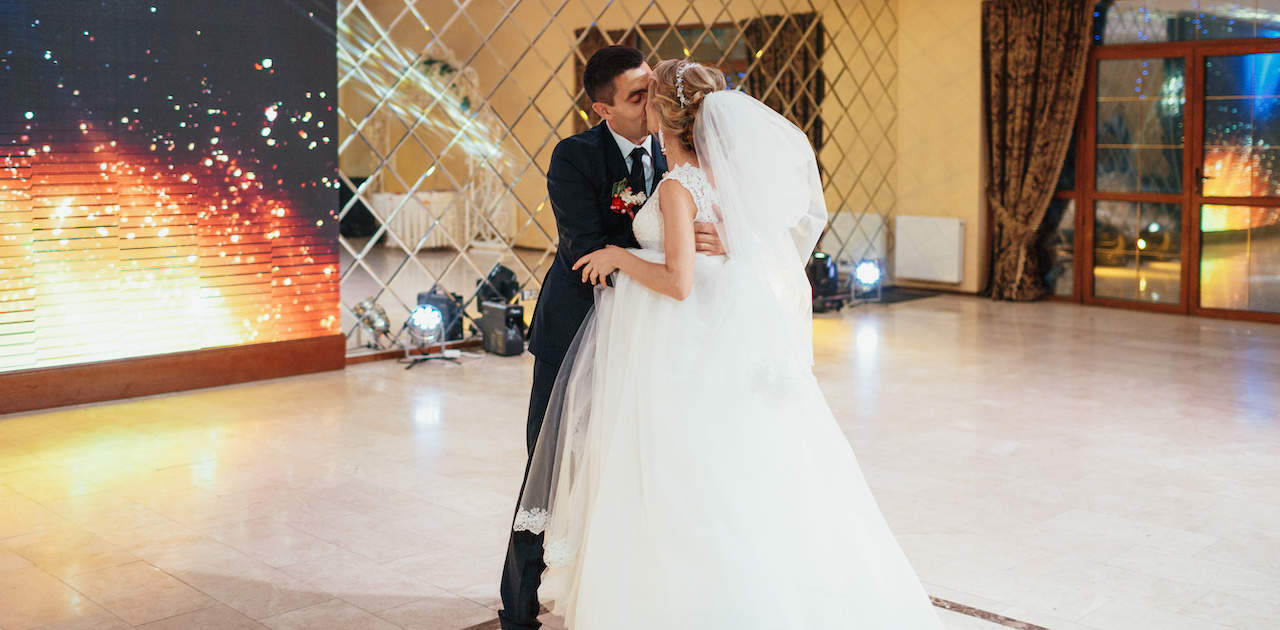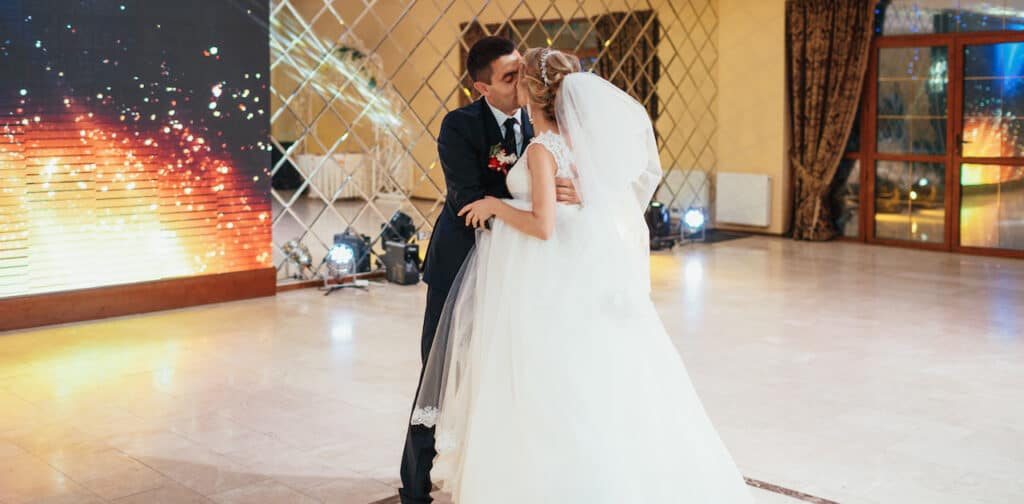 Your wedding guests might not be dancers, and that's okay
Wedding guests want to have fun at weddings, and the dance floor might not sound fun to them. And you know what: that's okay! Some people just don't enjoy dancing. Maybe they'd rather talk, or drink, or share photos.
We sometimes get asked how to get people to dance during a wedding reception. Even when the question isn't that direct, we get the sense that a bride or groom equates dancing with fun. "No dancing means no fun," they mistakenly believe. Dancing is one of many ways to entertain people, but not the only one. An empty dance floor is only a problem if it's made out to be one.
A dance-free wedding can be okay
Your wedding reception venue likely devotes a lot of space to the dance floor. It's usually a space central to the room or between the guests and the front or back between a DJ or band. The result is a room that makes the dance floor feel like the living room of your house — a central focal point. And an empty dance floor makes everything feel uncomfortable, awkward, or "dead".
If you recognize or think many of your friends and family might not want to dance, you can prepare for that. For instance, first dances often segue into a crowd coming out to the dance floor after the first dance. Moving from what is usually a slow song to a fast song sounds like a good idea, but a lot of people may find it anxiety-inducing.
Instead, transition the bride and groom back to their seats, either for food service, cake, or drinks. Then as song requests come in to the DJ or band, the crowd's first dance can match the tone of the requests. This might be an upbeat anthem or it might be a few more slow songs.
As entertainers, our DJs and bands work incredibly hard to get people dancing. It's also more fun for us when there's a crowd of people dancing. But some people aren't going to cut a rug for any amount of money. Either because they don't like to dance, they feel shy, or a variety of other reasons.
There are ways to handle an empty dance floor:
Allow songs to be chosen by your guests so can pick a tune they want to dance to.
Keep your no-play music list short. Certain songs or genres you don't like might be what most people in the crowd want to hear. Avoid blanket "no country" or "no rap" bans.
Let the DJ or band start with a traditional group or line dance song. Something that gets most people out of their seats in a way they understand without feeling "silly", like they might with the cupid shuffle or chicken dance.
Depending on the age of your wedding guests, there may be some "for-sure" songs your DJ or band can play. Songs like Uptown Funk, Don't Stop Believin', or Fly Me to the Moon can transport people back to when they were kids and make them more likely to dance.
Have an adjustable dance floor, either by setting cocktail tables and chairs nearby so the area can become larger as needs dictate. Having a flexible dance space can make the floor feel smaller and less consuming if it's underused.
Having an open bar is a great way to loosen people up so they feel more like dancing.
Give the DJ or band some latitude in playing music. The vast majority of brides and grooms let us play wedding songs as we deem fit, but occasionally someone tries to dictate every song, which can tie our hands when people request songs we can't fit in.
Get control of the lighting so it's darker — people will feel more "hidden" if the room is darker, as if no one's looking at them.
Get control of the music volume. Sometimes music can be too loud, making it uncomfortable for people dancing to stand near the speakers. If most guests in the room stay at their seats trying to talk, it might signal that the music volume should decrease because people want to catch up.
Recognize when other competing things are at play — like a long line for the open bar, a photo booth, or some other popular activity. Knowing when people will be done with those activities can help move your wedding reception along.
Work with your venue to keep the dance floor in a space that makes sense. If the floor is in another area or seems somehow separated by a wall, door, or frame — even a large one — it can be a barrier to people's movement.
Alternative ideas to dancing
If people just are not dancing, we can turn to these ideas to get people out of their chairs:
Call for a group photo. In tandem with your wedding photographer and people's phones, we can get people out of their seats in a way they expect and respect.
Consider "outdoor games," but indoors — like cornhole (an Indiana favorite), mini-golf, horseshoe, or other simple setup games. Having these games at outdoor weddings when you have the space is a good idea, too, because it gives more people more options in things to do and play beyond dancing. A wedding DJ is just as useful playing music and emceeing a crowd scattered around a large outdoor space as one playing songs for folks on the floor dancing.
Wedding traditions can start with just one wedding. Consider ways to start new traditions — like inviting more toasts, more speakers, sharing stories, video screens, or other activities you think might encourage more people to get involved. Your friends can carry on those traditions into their wedding day, too.
If your dinner service is separate from the rest of the wedding reception, you can keep people shuffling around by having fewer tables than space for everyone to sit. This common tactic in room design ensures people take turns sitting and standing.
We believe every wedding should offer some dancing. Otherwise, it'll feel like a New Year's Eve party where no one counts down at the end of the night. Don't forego a dance floor unless you know your wedding guests do not want it or the time of day doesn't make sense (like at a brunch wedding).
We play songs people want to hear, even if the dance floor isn't where they want to be
Great music is great music, whether a few people are dancing or the entire room is hopping. People can have fun at weddings in other ways:
Merely catching up with long-lost relatives or friends and family can be fun.
Create a rotation among your extroverted friends and family to visit suspected introverts so they feel welcome and seen, invited to join in, but not pressured to do anything they don't want to.
Work with your wedding photographer to send them roaming around to capture photos. Empower them to encourage people to get up from their tables. We can coordinate with them to play songs that match the tempo of their work, too.
When no one dances, you might feel bummed out hiring a DJ or band. But the atmosphere and ensuring people have a good time matters most.
The right wedding DJ or band can fade in and out as needed to play background music, host one dance or many, or ensure your reception dance floor is hopping with a mix of slow songs and pop hits that make it a party. A room without any music is a room that's destined to fail and one that's designed to be inflexible to your party's atmosphere and needs.
Get your wedding party off to the right start
Encore Entertainment has thirty years of experience working with guests to craft entertainment that gets friends and family moving, whether on the dance floor or just mingling around the room to share great memories.
Make your wedding day successful, even if the dance floor isn't a huge hit. Call or contact us today with questions or for a quote. We serve Indianapolis and much of Indiana and the Midwest.