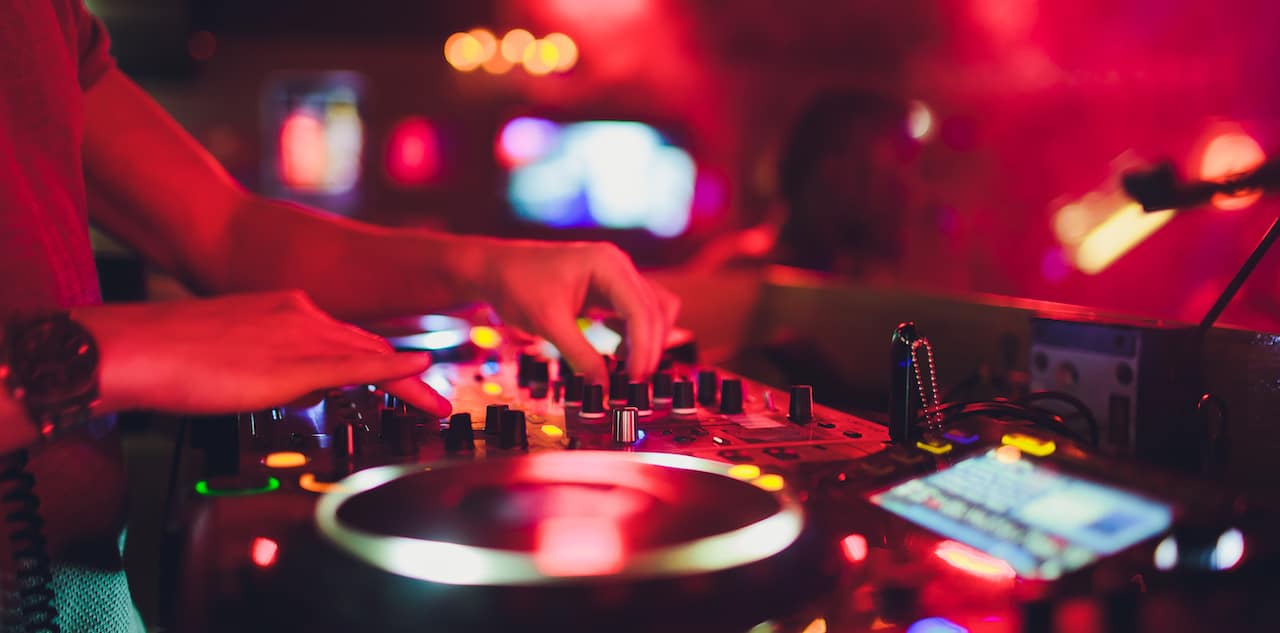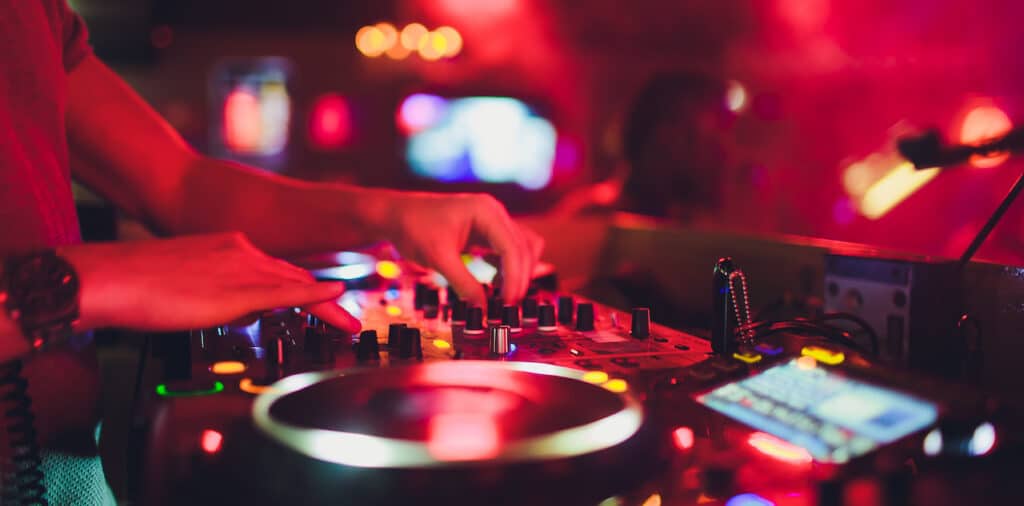 Discover a whole new world of dance music preferences with a professional DJ
An experienced wedding DJ or party DJ can do a lot during an event. The DJ is responsible for:
Ensuring the schedule moves along as designed
Selecting tracks to play
Reading the room to revise the track selection and order
Keeping the dance floor, wedding party guests and others moving
Setting up the equipment, sound stage, and working with a wedding venue or dance club
Playing songs for the fitting length of time
Playing song requests and matching the audience's age, such as including "clean" versions of explicit songs.
Interspersing songs with other tracks to create unique and memorable mixes
Emceeing the event, such as introducing the wedding party or guests of honor
Sometimes wedding DJs offer uplighting and setting up the lighting or dance club-style lighting effects
Working with event planners or a wedding planner to ensure they're playing music that matches the tempo and theme of the event
Offering technical assistance to you or the venue
Introducing specific events, such as a first dance song
Developing a deep knowledge of song tracks, their beats per minute, remixes, and effects
In the case of Encore Entertainment DJs, we carry insurance on all our acts, including DJs
That's a lot of work and requires a different technical skill set than performing live or playing an instrument.
DJs have a deep knowledge of music like chefs have for ingredients
Some DJs play music from a music library on their Mac or iPhone. Maybe they have a playlist loaded up and just hit play. In rare cases this can be preferable, like if there's a synchronized light show or stunning special effects to go with it. But this "just push play" approach is usually a sign of an inexperienced disc jockey and a lack of imagination.
Wedding DJs are the kind of people who spend endless hours thumbing through music and record stores to discover tracks. Like chefs uncovering the freshest combination of ingredients, wedding DJs prove invaluable when they're able to mix seemingly incompatible songs in ways that create romantic and memorable wedding memories.
Great wedding DJs play music to keep people on the dance floor
Weddings are the most popular venue for DJs outside of specific dance clubs and bars. A good wedding DJ is juggling two or three things at once:
The tempo and mood of the music,
The overall attitude of the audience,
Audience requests, if any, and,
Mixing tracks while listening to others at the same time.
When you see a DJ wearing headphones, they're listening to one song while playing another. They're searching for the part of one track they want to fade into another playing track live, as they find it.
A good DJ mixer allows them to crossfade and equalize (EQ) tracks one into the other seamlessly without creating a gap in the music. That requires both an eclectic music background, adjusting song lengths, having a stellar sense of timing and rhythm, and ensuring a slow song comes in when it's needed, not when an algorithm inserted it.
A skilled wedding DJ is able to string together a collection of tracks using audience requests, slow and fast dance music, the wedding party's music preferences, and the 'do not play' list with a deep knowledge of music.
The best DJs play the music they think the crowd will like and react to that feedback in real-time
Unlike a standalone Spotify playlist running off a MacBook, a wedding DJ requires skill to make mashups come alive with the right beats per minute. They can create an amazing atmosphere by using an extra few songs here and there along with deep cuts and your own music choices.
It's not just the songs that count at a wedding, either. You might watch your wedding DJ play from afar and make eye contact with them while you're busy dancing to signal you're ready to start a new tempo, change formats, or start an event as part of your wedding day timeline. Many wedding DJs are attuned to those subtle signals to deliver favorite songs or shift the tempo.
A professional wedding DJ can also cover up some mistakes through improv, personality, and character that shines through in case someone falls down on the dance floor, seems nervous, gets stuck or trips over their lines, and more. Which songs they play and how can dramatically alter your wedding reception and create that "memorable wedding WOW!"
Get yourself a wedding DJ that brings all the right equipment
The right wedding DJ can supplement your venue from basic dance floor lighting to high-quality audio systems, mics, and staging. Even the most elegant wedding reception venue might be lacking without lights. Many DJs can help by bringing their equipment or using connections to source rentals from a professional lighting company or stage venues.
Club DJs may even have their own recorded music you might like to mix into the set. And their mixers and effects can drive the light displays, all beat-matched to the tracks.
Go beyond a DJ that just pushes play
Encore Entertainment has talented, professional wedding DJs ready to book at affordable rates, whether your venue and theme are bringing that old-school romantic feel or mixing hip hop with familiar party music with a modern twist.
Not every wedding DJ is the same, and each comes with unique styles, tastes, and skills that go beyond blasting music. A quality wedding DJ can put you in a dancing mood and guarantee big fun. Let your wedding DJ serve up tracks mixed and synced to your wedding night.