It's about a week after your wedding. You've just sat down to an email from your photographer with previews of all the images. Everyone's dressed great, the food was terrific, and the guests are…not smiling? "Why does everyone look like they're listening to a lecture?" You wonder.
Photos are a snapshot of everyone's moods, feelings, and energy from the moment they arrive to the moment they leave. Whether you're having an intimate garden party or are playing explicit songs on the dance floor all night, your music is the one thing that lasts all day.
Your wedding day begins and ends with truly amazing wedding music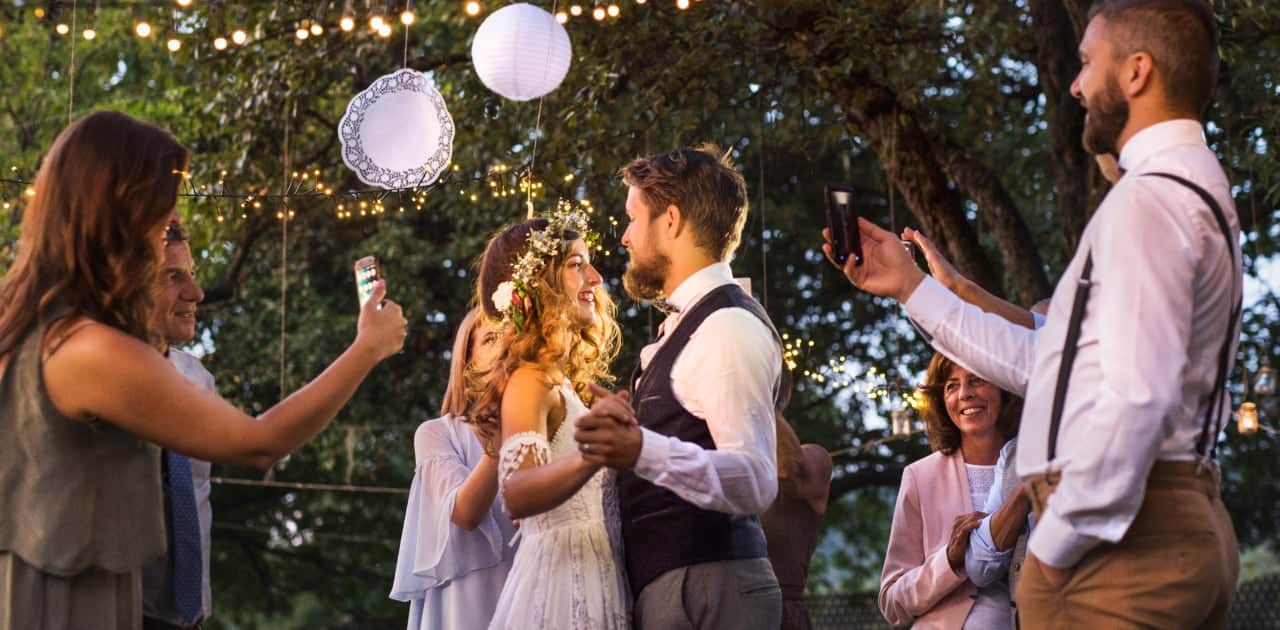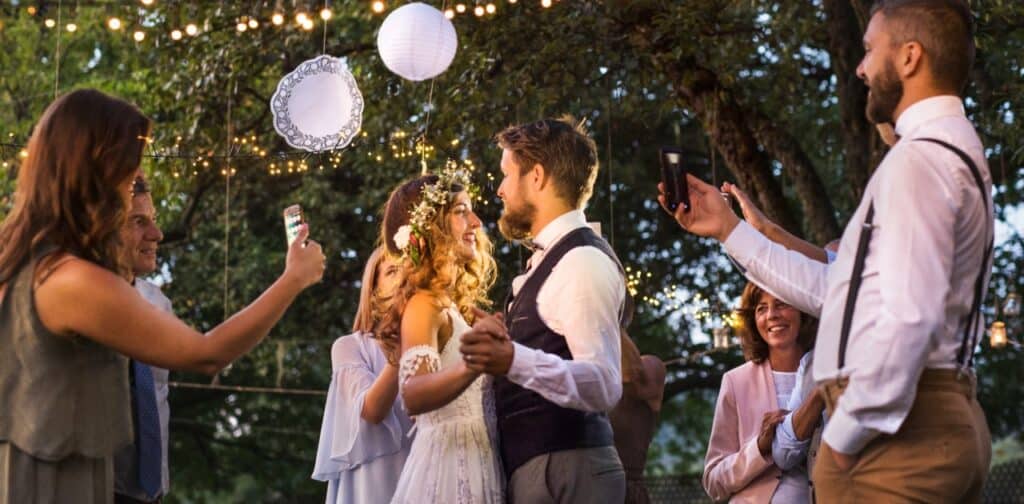 The officiant, food, drinks, ceremony, and reception all start and stop throughout your wedding day. But the entire wedding celebration is blanketed in music.
"On my wedding day, we had this really lovely string quartet playing in the lobby and near the ceremony. They also did live music through the wedding ceremony. They even covered for us a little when our cute little flower girl stopped walking for a moment," says Esteban O. with a laugh. "Later at the wedding reception we had the band etc… playing and they covered us through a long first dance song. We had a pretty fun wedding," he recalls, "I think our guests responded positively, too, because they were smiling and having a great time in every photo and video clip of that night."
A professional wedding planner will tell you a few lessons they've learned over the years about creating ambiance and atmosphere with music. Whether you hire a band or DJ, music typically works best when it's guided by the bride and groom and nods to the family's hopes and dreams, too.
"We had mostly secular songs," says Allison P., of Indianapolis. "My soon-to-be spouse had some favorite songs he wanted to play at the reception, and I knew my mom wanted to hear a few non-secular songs that were played at her wedding. When we asked the wedding DJ to play a mash-up of one just before our grand entrance, the photographer happened to snap a photo of mom. You can see the emotion in her eyes."
Tricky music situations like this come up a lot. Your wedding band or DJ can help smooth over those must-play songs with a variation, like playing a classical version of a lyrical song, or mashing a song's lyrics up with different songs.
Sometimes music can make people laugh
Wedding photographers don't want to ask everyone to smile or look at the camera. The best photos come as people are conversing and dancing with others. If they know the photographer is there, people suddenly look and behave differently. You can tell because the photos people cherish most are the ones of people laughing naturally or wiping away a tear.
Consider cocktail hour, ceremony music, and reception playlists that include a very innocent inside joke as part of your wedding planning.
"When we first met, my husband and I went out to dinner at this little Mexican restaurant and they had this table side singer come by every table in the place," says Chris N. of Noblesville, Ind. "When he came to our table we froze because he played none of it well. We remember our date night because this guy was murmuring this off-key version of "Sweet Caroline". We had a good laugh about it afterward. My husband had the idea of incorporating that into our wedding day. Of course, he didn't tell me that beforehand," recalls Chris.
The result was a riff on the melody of Sweet Caroline—this time on-key—that melted out of some soft ballads. "No one else in the room thought anything of it, but I heard it and when we glanced at each other I knew what he had requested from the wedding DJ," says Chris. The photos captured that moment precisely.
Get started with your amazing wedding music planning
When you're ready to start planning your wedding day and wedding music, consult with us for our options on a band or DJ. We'll work with you to compile a do not play list and a do-play list timed at all the right points.
Your wedding photos and ceremony music go hand-in-hand. Get started by requesting a quote or call 317-917-8800.