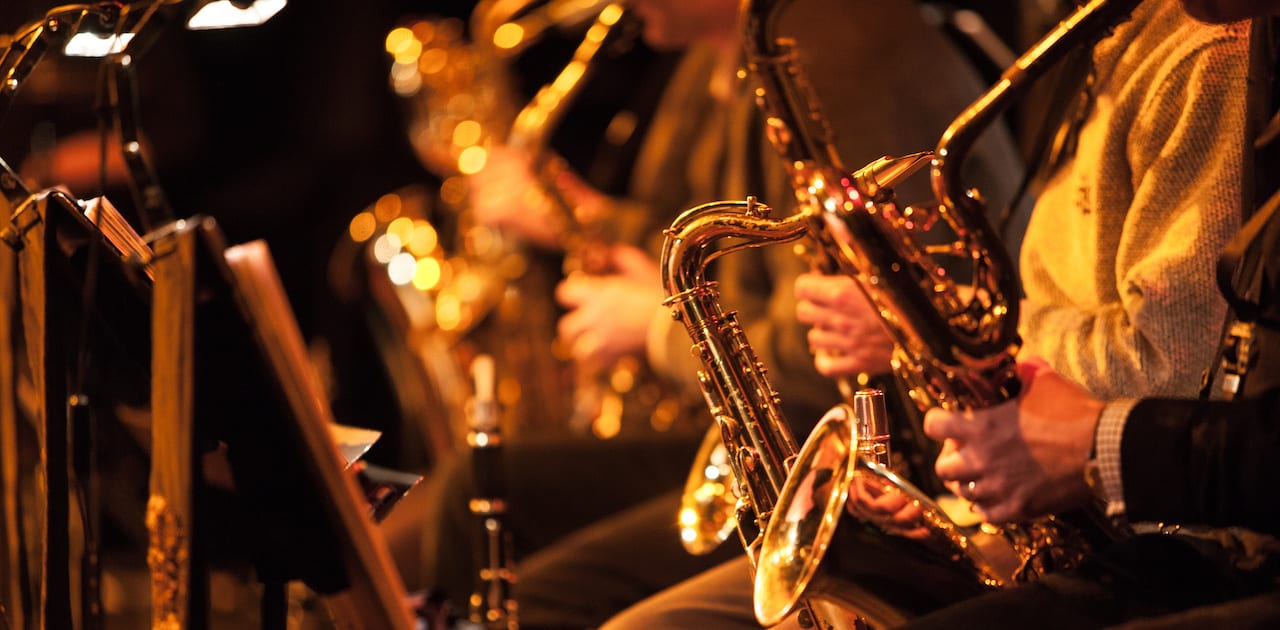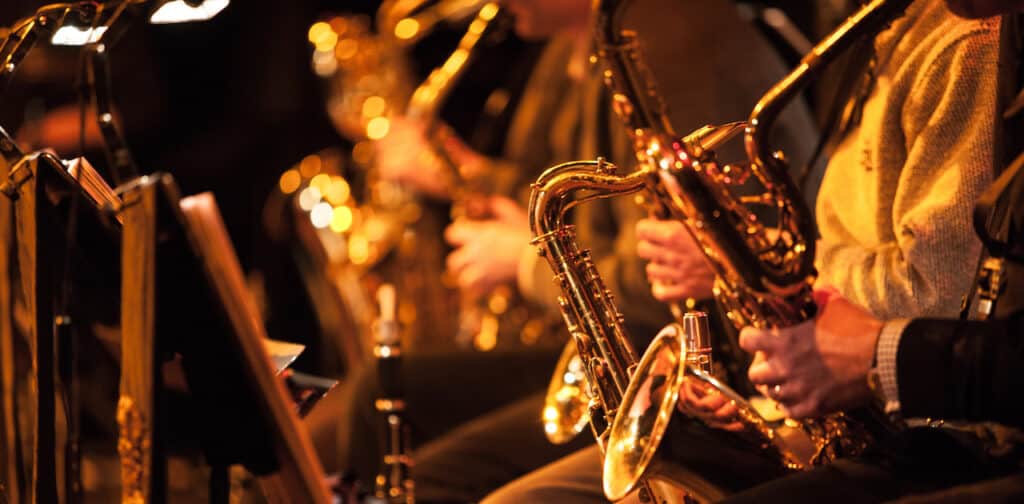 The best jazz bands for hire near Indy include three options:
Cocktail Sax is a jazz band for hire with decades of experience and can be customized in size.
Circle City Big Band is another favorite for a private party or wedding receptions. They can also be customized in size from five to seventeen or more pieces.
The Rat Pack, a live tribute party band honoring Errol Flynn, Nat King Cole, Tony Bennett, and Frank Sinatra. While not a strict jazz band, per se, their influence is undeniable. Marilyn Monroe can also make a special guest appearance as the band plays.
All three jazz bands can fill a room with jazz influenced standards from the past or contemporary smooth jazz interpretations of more current songs. Their music is distinctive and unique, and each differs in presentation.
Among all the jazz bands near me, Cocktail Sax was just the absolute best. We knew we wanted live music from local bands and every one of the musicians were so much fun.

Amanda M., Fishers, Ind.
Cocktail Sax is a true jazz ensemble among Indianapolis bands. Their performances include horns, drums, and even live vocals. They can also:
Provide a "big band" feel that drives people to the dance floor
Play uptempo beats from the great American songbook of jazz history
Offer background music suitable for corporate events
Play several genres of music including top hits from legendary jazz artists and legends like Frank Sinatra, West Newton, or jazzy versions of Top 40 hits, rock, and pop songs
Include vocalists
Circle City Big Band is an ensemble of musicians in a variety of configurations. They're the perfect entertainment vendor if you want a live band that hits all the right jazz standards mixed with a contemporary or elegant twist. They can also:
Create an atmosphere that matches your special event, whether it's a birthday party, corporate function, or wedding reception
Scale up and down in size by adding or removing entertainers
Perform background music on a schedule that works for your event
Include vocalists
Every option will let guests request songs and each will travel across Indiana and the Midwest.
Indianapolis jazz bands descend from a rich history on Indiana Avenue
Indianapolis isn't New Orleans, and it isn't trying to be, but the Circle City enjoys a rich jazz history. During the 1930s and 1940s, Indianapolis was home to some of America's top jazz bands and musicians. Clubs and bars popular with African Americans dotted Indiana Avenue and points in and around present-day Indiana University in Indianapolis and Crispus Attucks High School. Attucks itself had a robust music program that prepared students in R&B and jazz composition and performance.
Audiences came to hear swing music and popular bands traveling around the country. Most jazz bands from Chicago, New York, and elsewhere knew to make a stop in Indianapolis. Among the popular performers, the Montgomery Brothers, Slide Hampton, and Miles Davis all performed in Indianapolis.
By the 1950s many of the clubs and bars began to fold. Gentrification, or early forms of it, began to erode the neighborhoods around Indiana Ave. Within a few more years highway construction and other urban development programs eliminated most African American households from the area.
Today, Indiana Avenue is anchored by the Madam Walker Theatre, which continues to host blues, swing, and amazing jazz bands, but much of the original luster is lost to history.
Ready to bring a jazz ensemble to your next event or wedding?
Reserve your jazz trio or customize the number of musicians and entertainment at your next event with Encore Entertainment. Whether it's a swing band, jazz singers, or jazz bands for weddings or corporate events, you've got options.
Whether it's a full band for your wedding day or an afternoon corporate event, when you hire a jazz trio or band with Encore Entertainment, your entertainers are insured, professional, and can supply some or all of the equipment necessary to assist your venue throughout the Indianapolis area.