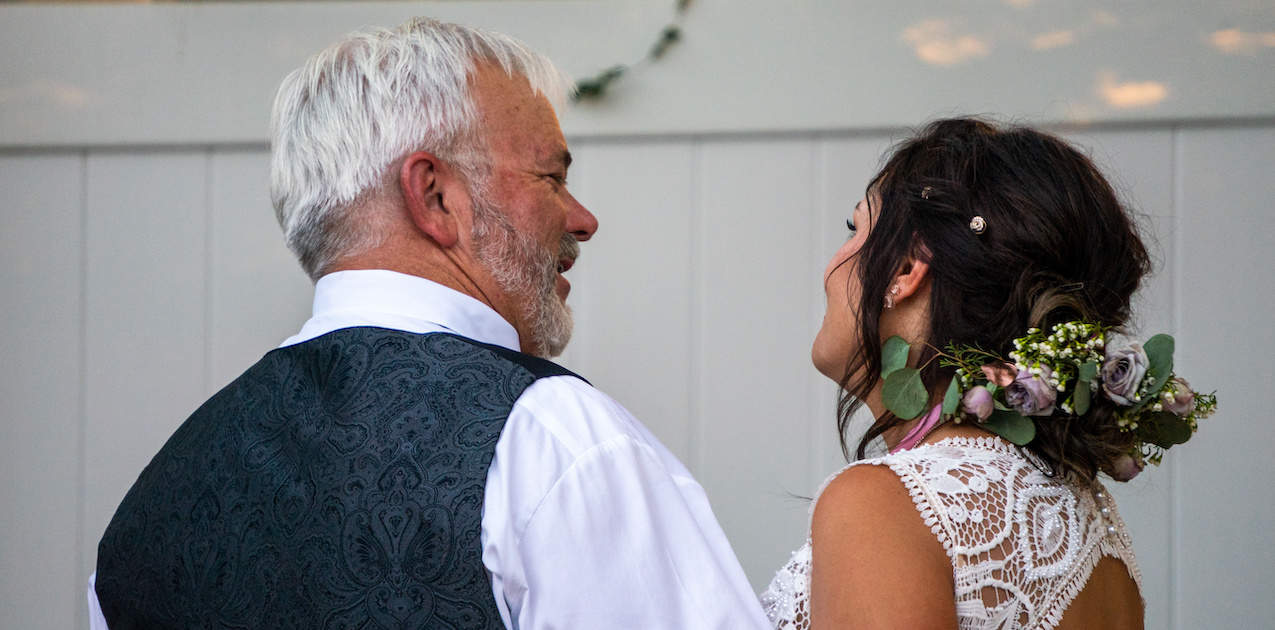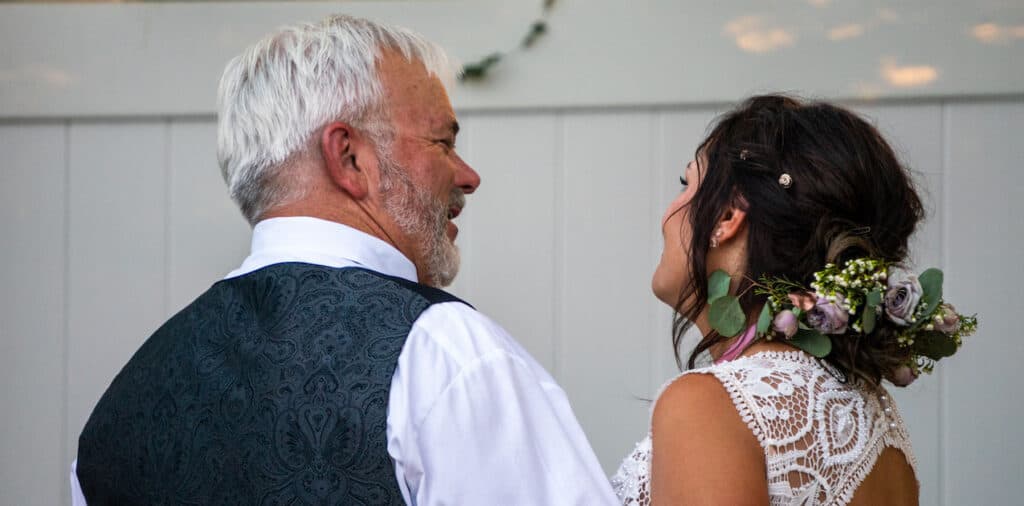 Father-daughter dances date back to early parts of the 18th and 19th centuries. In the 2020's, however, the father-daughter dance is being updated with new traditions. Instead of a father, maybe it's your grandfather, or a father-figure that's someone extra special and close to you, like a mentor. Grooms getting married sometimes substitute a mother-son dance at their weddings.
Typically the father-daughter dance is the second of the ceremony, immediately following the first dance between newlyweds. We've covered songs across half a dozen genres and helped people plan for their wedding. One thing that's clear is that choosing the best song for a father-daughter dance is among the hardest to choose. Newlyweds often have a favorite song, such as one they heard when they were first dating. But father-daughter dance songs need to be heartfelt, not creepy, and useful to dance to.
We have some ideas sorted by genre with lyrics for each.
Browse father-daughter/mother-son song ideas by genre
🔥 indicates really popular requests
Top 40
"The Best Day," by Taylor Swift
Lyrics include: "And now I know why all the trees change in the fall/I know you were on my side/Even when I was wrong/And I love you for giving me your eyes/Staying back and watching me shine"
"Tongue Tied" by Grouplove
Lyrics include: "Don't leave me tongue tied/Don't wave no goodbye/Don't leave me tongue tied/Don't"
Lyrics include: "Can't stop my tears from falling/I love you so much, daddy/Thank you (my unborn son to be like my daddy)/You've done so much for me (want my husband to be like my daddy)/I love you, daddy"
Lyrics include: "And if he lives up to my father/Maybe he could teach our daughter/What it takes to love a queen/She should know she's royalty"
"Ready, Steady, Don't Go" by Billy Ray Cyrus
Lyrics include: "This is where I want to but I won't get in the way/Of her and her dreams/And spreading her wings"
"Tightrope" by Walk the Moon
Lyrics include: "I said careful now, what you do to my head/Well make your mind up, make your little mind up/To reach is oh, to reach is to oh, oh, oh,"
Pop
"Count on Me," by Bruno Mars 🔥
Lyrics include: "If you tossin' and you're turnin' and you just can't fall asleep/I'll sing a song/Beside you/And if you ever forget how much you really mean to me/Every day I will/Remind you"
"How Long Will I Love You" by Ellie Goulding
Lyrics include: "How long will I be with you?/As long as the sea is bound to/Wash up on the sand"
"You've Got A Friend In Me" by Michael Bublé 🔥
Lyrics include: "You've got a pal in me/You've got a friend in me/You got your troubles and I got 'em too/There isn't anything I wouldn't do for you"
Lyrics include: "And then a hero comes along/With the strength to carry on/And you cast your fears aside/And you know you can survive/So when you feel like hope is gone/Look inside you and be strong"
"Because You Loved Me," by Céline Dion
Lyrics include: "You were my strength when I was weak/You were my voice when I couldn't speak/You were my eyes when I couldn't see/You saw the best there was in me/Lifted me up when I couldn't reach"
"Wind Beneath My Wings," by Bette Midler
Lyrics include: "Did you ever know that you're my hero/And everything I would like to be?/I can fly higher than an eagle/For you are the wind beneath my wings"
"Daddy's Little Girl," by The Shires
Lyrics include: "Used to wrap my hands around his little finger/Turns out he was wrapped around mine/He said 'you can be anything you want to in this great big world'/But I'm always gonna be daddy's little girl"
Rock and Classic Rock
"Have I Told You Lately," by Rod Stewart
Lyrics include: "Have I told you lately that I love you?/Have I told you there's no one else above you?/Fill my heart with gladness, take away all my sadness/Ease my troubles, that's what you do"
"American Girl" by Tom Petty
Lyrics include: "Well, she was an American girl/Raised on promises/She couldn't help thinkin' that there/Was a little more to life/Somewhere else/After all it was a great big world"
"You Are My Sunshine" by Johnny Cash and Bob Dylan 🔥
Lyrics include: "You are my sunshine, my only sunshine/You make me happy when skies are gray/You'll never know dear, how much I love you/Please don't take my sunshine away"
"You Are So Beautiful," by Joe Cocker 🔥
Lyrics include: "You are so beautiful/To me/You are so beautiful/To me/Can't you see/You're everything I hoped for/You're everything I need/You are so beautiful/To me"
"Michelle," by the Beatles
Lyrics include: "I love you, I love you, I love you/That's all I want to say/Until I find a way/I will say the only words I know that you'll understand/Michelle, ma belle"
"When You Need Me," by Bruce Springsteen
Lyrics include: "When you need me call my name/'Cause without you my life just wouldn't be the same/If you want me come sunny skies or rain/When you need me just call my name"
"All You Need Is Love" by The Beatles
Lyrics include: "Nothin' you can make that can't be made/No one you can save that can't be saved/Nothin' you can do, but you can learn how to be you in time"
"Landslide," by Fleetwood Mac
Lyrics include: "Well, I've been afraid of changin'/'Cause I've built my life around you/But time makes you bolder/Even children get older/And I'm getting older too"
"Isn't She Lovely," by Stevie Wonder 🔥
Lyrics include: "Isn't she lovely?/Isn't she wonderful?/Isn't she precious?/Less than one-minute old/I never thought through love/We'd be making one as lovely as she/But isn't she lovely made from love?"
"Two Steps Behind," by Def Leppard
Lyrics include: "Whatever you do/I'll be two steps behind you/Wherever you go/And I'll be there to remind you/That it only takes a minute of your precious time/To turn around"
"Wild Horses" by The Rolling Stones
Lyrics include: "No sweeping exit/Or offstage lines/Could make me feel bitter/Or treat you unkind"
"Your Song," by Elton John
Lyrics include: "Oh I know it's not much but it's the best I can do/My gift is my song/And this one's for you/And you can tell everybody this is your song/It may be quite simple but now that it's done/I hope you don't mind"
Classics & Instrumental
Pairs well with Encore Entertainment's Candlewood Strings and Cocktail Sax artists
"I wish you love" by Frank Sinatra
Lyrics include: "I wish you bluebirds in the spring, to give your heart a song to sing/And then a kiss, but more than this, I wish you love/And if you like lemonade to cool you in some lazy glade"
"Canon in D" by Pachelbel
"Ain't that Love" by Ray Charles
Lyrics include: "Now when you walk (when you walk)/I want to walk with you/When you talk (when you talk)/Want to talk some, too"
"What a Wonderful World" by Louis Armstrong
Lyrics include: "The bright blessed day/The dark sacred night/And I think to myself/What a wonderful world"
"You are the Sunshine of My Life" by Stevie Wonder
Lyrics include: "You are my sunshine, my only sunshine/You make me happy when skies are gray/You'll never never never know dear, how much I love you/But don't you to take"
"Air on G -String" by Bach