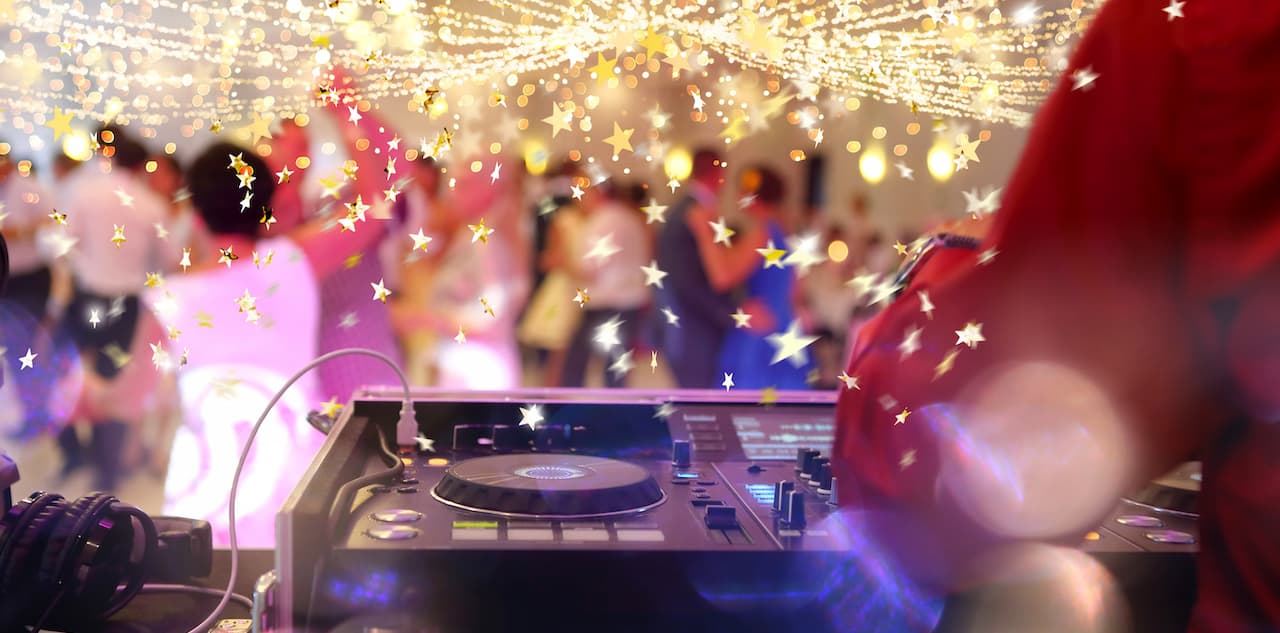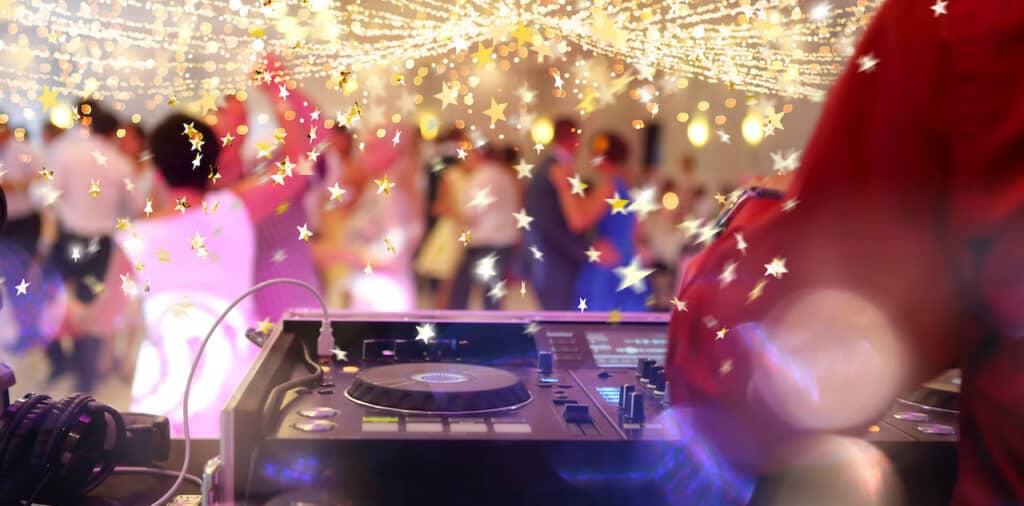 Sure, you should ask about costs and timing, but what about a DJ's performance style, preferences, and music choices? Go deeper in your search for a DJ with these questions designed to separate the amateurs from the professionals.
The top DJs in Indianapolis and any market will be passionate about the music industry and have opinions on what music best suits your tastes and style.
Contractual questions to ask any DJ
Do you carry liability insurance?
Any potential DJ should have insurance if someone trips over a cord, gets a little too rowdy near the speakers, or has any other random accident.
What's the latest we can change or cancel?
A wedding date that has to change is a big deal, but it shouldn't be punishing. No one hopes you need it, but 2020 proved how vital a good cancellation policy could be. Inclement weather can delay or modify plans, including equipment needs, too.
Do you have access to video screens or videos?
Even if your DJ doesn't have screens for rent (Encore Entertainment does), your venue might. Ask if they can connect with the screens to display visualizations or videos.
Music and customization questions to ask
Is there a limit we should set to song requests?
Guest requests can get lengthy. You should ask your DJ's opinion about common songs worth including on the "do not play list". Some typical songs on do-not-play lists include the Macarena, anything with swear words, and the "Chicken Dance".
Do do you recommend for good background or 'filler music'?
Background music that isn't distracting can be nice as people file into a place, similar to how a rock concert often plays classic hits.
Do you have backup equipment?
Sometimes DJ equipment fails, like a speaker or a microphone (especially wireless ones!). Ask if they have a backup plan to protect against failures.
What additional services might we be interested in?
This question can help connect you with other services, meetings, and options you might not know about.
Wedding DJ-specific questions
Can you provide equipment, including a dance floor or lights?
Few DJs can provide equipment beyond a sound system, but Encore Entertainment can. Lots of DJs rely on the venues for their equipment.
Can you handle moving between a wedding venue and the wedding reception?
A potential DJ needs to be able to move quickly. If you're switching venues or locations in a venue (like from outside to inside, or upstairs to downstairs), ask how they plan to accommodate the switch.
How many weddings have you worked?
They may not know, but they should have an estimate. Experience matters when it comes to weddings. Engaged couples deserve and expect a lot.
Can you spend the entire wedding day at our location?
Most DJs will charge by the hour as a standard industry practice. But wedding entertainment often requires the whole day. Ask about packages and options that can extend your big day all night long.
How do we plan the first dance and other reception intros?
Some DJs don't like to play emcee. A good wedding DJ can and will be the emcee of your wedding reception, introduce the couple, know the wedding party's names (and pronunciations!), and be able to encourage people to come out to the dance floor.
What if we don't know our wedding day yet?
Ultimately your DJ needs to get on the same page with you to ensure your wedding is a lock. Ask when the latest they need to know your big day is.
Can we also have a wedding band?
It's common for a wedding party to switch from one entertainer (like a DJ) at the cocktail hour to another (like a band) at the reception. Just make sure they don't trip over each other.
Is there new music or trends I should know about?
If you're starting to age out of the hottest music, your DJ can tell you all about today's must-play hits for your special day.
Questions to ask a professional DJ for any event
Is this your full-time job?
A DJ career is possible, especially for professional musicians.
What kind of DJ gigs do you not like to play?
An experienced DJ plays music that matches their own brand, and that might include more rap, country, or pop than you care for. Sometimes the best DJs are opinionated about their style, and that works for some customers but not all. Encore has multiple DJs to connect with based on your preferences.
Do or can you mix music, like from our favorite songs?
The music world extends beyond just shuffling songs in a playlist. A good DJ views their work as an art form and can mix songs and blend styles on the fly. Some DJs even produce music on the side.
Why do you like being a DJ?
This might sound unusual, but it'll be an excellent clarifying question to help you form a relationship with your DJ. They may also tell you why they started DJing.
Ask Encore these and more questions today. We can connect you with dozens of available DJs.