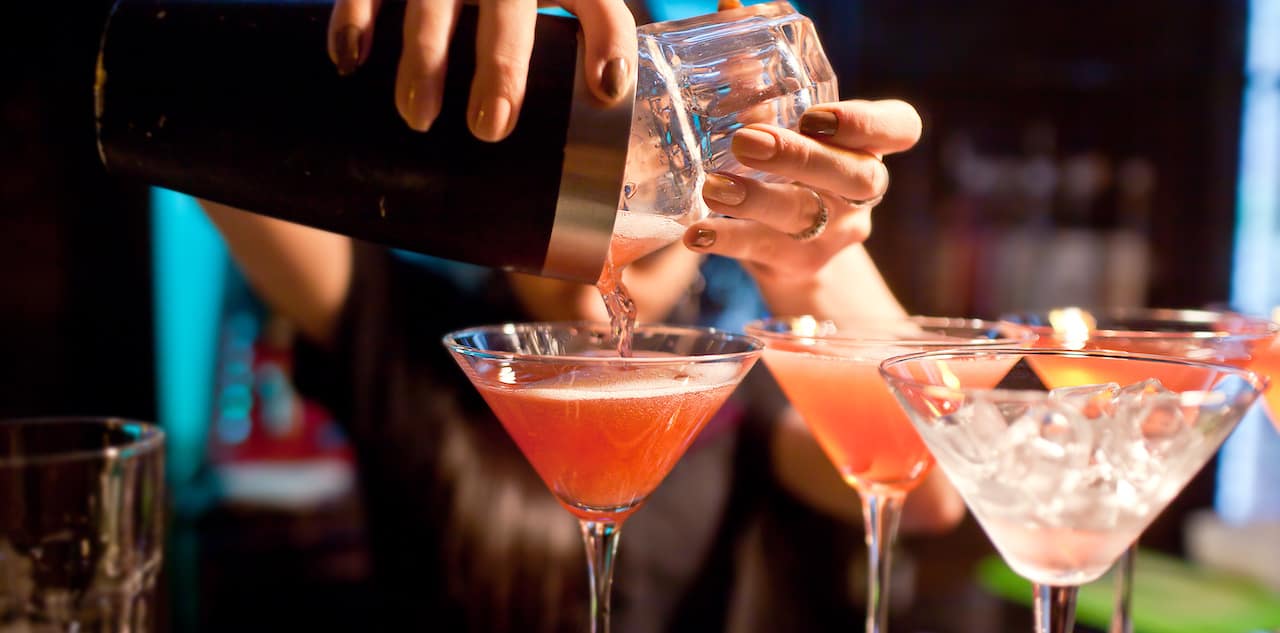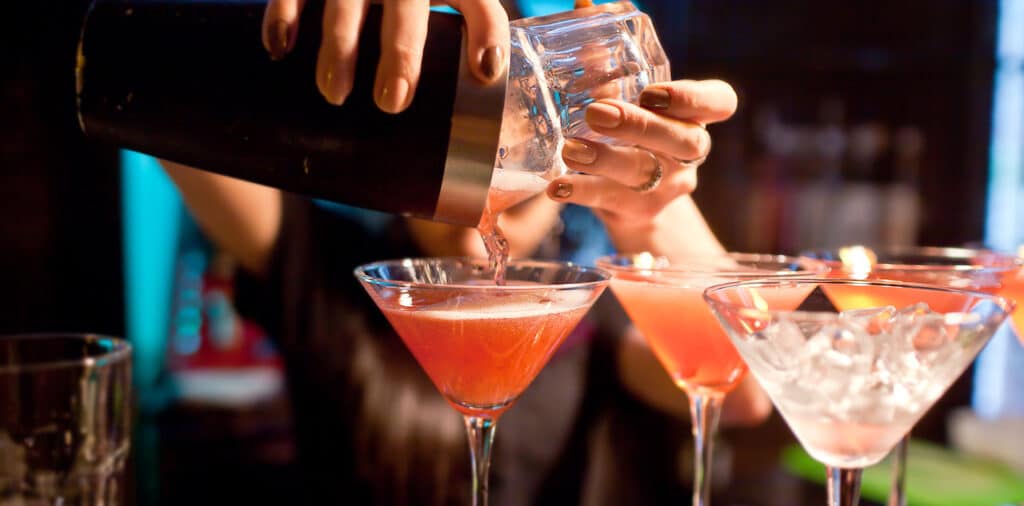 Hosting a cocktail hour or a wedding cocktail party? There's more to it than just cocktails
We once helped set up for a cocktail hour at a large corporate event and it was clear something was about to go wrong. Most of the guests arrived to discover there were no food stations, but there were a bunch of lawn games for people wearing suits and dresses. And the combined indoor and outdoor vibe let people get some fresh air but made it hard for the live band to play so everyone could hear.
What they were having was a night out, not a cocktail hour. A successful cocktail party, either for a corporate event or a bridal party, requires at least these 6 things to be a success.
1. Have fewer tables than people
By design, you should give your guests a place to set down a drink or plate. It can be challenging to balance a cup, a plate, and a purse all while standing up.
But you don't want so many tables that people gravitate toward a single spot and don't move. Keep the ratio at about 3:1, with 1 table for every three, maybe four, guests.
And keep at least a quarter of the tables equipped with chairs for people who need to sit down from time to time. Pregnant women and people with mobility issues such as knee pain will leave if they can't find a place to sit for a while. And women in heels will appreciate the break, too.
If your venue can't support a mix of standing and sitting tables, see if there's a place for comfy seating options outside the main cocktail party area, like a lobby or reception space.
2. Make sure the food floats around everywhere
If your venue supports wait staff, the food should float around everywhere. Enough that people don't go hungry but not so little they start wondering where the servers are.
Short of that, or depending on your venue's size, food stations scattered in all corners of the room and maybe one or two in the middle can go reduce the burden on staff.
If your cocktail hour is designed to turn into a reception dinner, you can start with things like a cheese board on the tables or at small buffet stations. One other fun idea? Bring 80s cocktail party food for a generation-themed experience.
3. Choose music that suits the party
Guests need to be able to talk to other guests. Ensure the music for the entire evening is designed to get the party started, keep it going, and wind it down without overwhelming conversation.
When we set up for a wedding cocktail hour, we often play instrumental versions of some of the songs we intend to play at the wedding. It reduces the number of choices the bridal party has to make and sets a mood for the rest of the day that matches the wedding theme.
Corporate events often want to offer a hybrid of instrumental selections to start the cocktail hour and transition to live music with vocals or even a different act. Encore Entertainment can help you book two or more artists, such as Cocktail Sax for a starting selection of jazz music and the band etc… for live music that gets guests dancing.
There are three rules for music during a successful cocktail hour:
Play instrumental music so it doesn't distract people. Lyrics can be distracting and encourage people to sing along, if only in their minds.
Play songs that people know. The best cocktail hour songs are renditions of standards from the Great American Songbook, contemporary songs, top 40 hits, pop songs, and classic ballads people have heard or with which they can identify.
Make the music unique to the event, especially at weddings. After several hours, a wedding cocktail hour that bleeds into the wedding day may run low on song ideas. If you have set changes in your schedule, like a wedding cocktail hour that transitions to a wedding reception, mix it up either with different instruments, artists, or song styles. We can help you plan with several options based on your budget. One popular way is to start with a solo musician, like a pianist, and add artists to make it a trio or quartet as the night progresses.
4. Music and alcohol work together to keep people mingling
The louder your music the more people are going to drink alcohol. If your drink selections are free, it's even more likely people will spend more time drinking.
Loud music increases alcohol intake partly because no one can reasonably talk to each other. So to fill the time and space with their hands and actions, they drink. This is why the bar line gets longer as the music pumps up.
Let your artist or cocktail party band know if you want to get people loosened up. Increasing the volume is an easy and fun way to change the mood quickly.
Likewise, if you want them to be safe to drive home later on their own, keep non-alcoholic options available and help pace people with quieter music. You can also stick to beer and wine, ensure plenty of cocktail party food is available, and keep the music volume down.
5. You or the venue have service under control
Cocktail parties that can't keep up with serving appetizers are doomed to unsettled guests. Make sure your venue and bar staff are fully stocked and that guests have ready access to small plates and their favorite foods. It's always essential to have at least one non-meat option and some hors d'oeuvres that are non-dairy or low-allergen, too.
You can help keep the bar line under control and prevent long lines by making the evening's signature cocktails easy to prepare. If the signature drink takes a bartender a while to mix, you'll keep people in line for long periods.
It's also a great idea to keep a signature cocktail or two in reserve for later in the event. New drinks give your guests something exciting to try after having all their usual favorite drinks.
6. It knows when to stop and doesn't go on forever
Invite people who can be the life of the party. We've seen some events where most of the guests appeared introverted and spent more time staring down at the monogrammed napkins than each other.
Make sure your guests and invited friends can mingle with people who are lively, charming, and exciting. If you're unsure, one great conversation starter is to know a little about your guests to help introduce them to each other.
Lastly, a successful cocktail hour knows when to stop. Your musicians can do the most to help the event progress by changing the tempo and style of music.
Ready to get started? We can help make your cocktail hour a huge success
There are other ways to make a successful cocktail party. We've seen plenty of events featuring a caricature artist, a rotating selection of finger food that never seemed to end, and even events with a mariachi band, photo booth, and a personal touch with things like personalized koozies for beer bottles.
Cocktail Sax, the band etc…, and Candlewood Strings are all excellent options for a corporate or wedding cocktail hour. Contact us with questions or to schedule a booking.